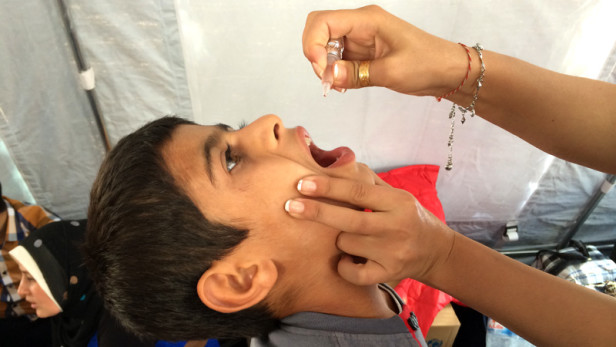 In this context, the achievement of the ambitious new
Sustainable Development Goals
becomes even more important. Despite the many challenges, the pursuit of these goals is possible and provides crucial opportunities for peaceful conflict resolution.
Humanitarian diplomacy — which advocates on behalf of the needs of vulnerable populations, while upholding humanitarian principles — can open small windows of opportunity that can lead to peace, and at the very least dramatically improve the situation.
Even in the bloodiest conflicts, when there seems no end in sight, creative negotiations have facilitated crucial vaccination campaigns and interventions to reach desperate civilians. This diplomacy takes place not just at a governmental level, but also through grass-roots advocates who engage community and religious leaders to create a dialogue and enable health professionals to do their work.
From Sri Lanka to Syria and Nigeria, this quiet diplomacy — as practiced by members of the
Global Polio Eradication Initiative
and its partners, which has reduced polio cases by 99.9 percent since its launch in 1988 — is creating new models and tactics for humanitarian organizations.
The best practices of humanitarian diplomacy aim to achieve sustainable results by combining top-level negotiations with local peace initiatives. This is in stark contrast to the failing efforts in Syria. Although a report on peace initiatives there concluded that the April 2012 cease-fire brokered by Kofi Annan and other
top-level attempts to negotiate cease-fires had "significant humanitarian impact,
" the positive impact was short-lived. This is because local actors were not integrated successfully as part of the process.
So how do we actually combine high-level efforts with local initiatives to achieve sustainable humanitarian impact? Here are three principles:
1. Diplomacy is increasingly multilateral: involve as many players as possible.
During the Sri Lankan civil war, the government had originally planned to hold a polio National Immunization Day only in those areas that were not impacted by the war, with the result that only two-thirds of the country's children would be vaccinated. However, after consultations between
Rotary
and
United Nations Children's Fund
, the two organizations reached out to the rebel army and convinced its leader to agree to an immunization campaign and a cease-fire if the government would also stop the war for two days.
The parties came to an agreement and the subsequent immunization efforts reached approximately 95 percent of the country. By involving all of the relevant parties and utilizing the unique contributions of a nongovernmental organization such as Rotary (rather than just pursuing unilateral action by the government), immunization efforts were converted into an instrument of peace and negotiation.
This tactic — what became known as "days of tranquility" — was successfully used in other countries and demonstrated how creative diplomatic strategies can aid conflict resolution.
One example saw Rotary work with its partners in the GPEI, as well as the
International Committee of the Red Cross
and the Catholic Church, to negotiate in El Salvador during the civil war. Allowing health workers to access isolated populations to carry out immunization efforts and the resulting lull in hostilities opened the door for mediators to initiate a dialogue between the warring parties that ultimately led to a lasting peace.
What is the Global Polio Eradication Initiative?
But creating these opportunities depends on a strong and local grassroots presence, engaging with as many willing public and private partners as possible, and enlisting the support of internal social and institutional authorities. In this way, localized humanitarian diplomacy that integrates the resources of national and international players not only benefits public health, but complements the efforts of high-level negotiations when progress appears stagnant.
2. Use the strengths of neutrality, independence and principled action.
The importance of neutrality has long been a staple for NGOs and aid organizations, especially when operating in conflict areas or responding to natural disasters. However, the demands of humanitarian diplomacy in the field place ever-increasing pressures on these principles.
To maintain credibility in a politicized environment, it is important to build trust and ensure local involvement. This can be time-consuming, but becomes crucial whenever tensions arise. For example, the recruitment and induction process for Lebanese Red Cross volunteers
can take 9–12 months
. This may seem lengthy, but a rigorous selection process to recruit and train professional, impartial, local members of international NGOs operating in volatile areas, ensures that they will be able to act more effectively with the support of the local population.
Upholding independence is fundamental in peace as well as wartime, as the GPEI learned when embarking on delicate negotiations to reach populations where rejection of vaccines was at high levels. It was only by gaining the support of social and religious leaders that these barriers were overcome, leading to successful and sustainable vaccination efforts.
However, once trust and credibility as nonpartisan, principled actors is lost, it can be very hard to regain. The damaging revelations of ongoing sexual abuse perpetrated by U.N. peacekeepers in the Central African Republic, Liberia, Haiti and elsewhere "can destroy … in a flash" any hard-earned gains of a humanitarian mission,
according to Jack Christofides, head of U.N. peacekeeping in Central Africa
.
3. Maximize humanitarian opportunities by providing multiple interventions and services.
Using health as a bridge for peace in Sri Lanka and other countries not only created important informal channels of communication across political and ethnic divides, but it facilitated other vital interventions for vulnerable populations. These included the provision of vitamin A tablets, deworming treatments, the distribution of malaria nets and the provision of electricity.
What this means is that NGOs must be ready to capitalize on opportunities once humanitarian diplomacy creates windows for action.
In summary, whether development professionals target the Syrian conflict and refugee crisis, disease prevention in the developing world, or gender equality, the coalition-building and agile engagement strategies of humanitarian diplomacy will be crucial in achieving many of the benchmarks of the Sustainable Development Goals.
Post Polio Litaff, Association A.C _APPLAC Mexico